E-Waste management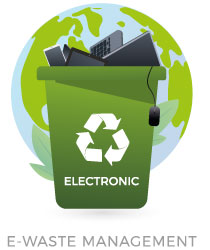 CAREL ACR Systems India Pvt Ltd has been working in the area of safe disposal of electronic waste. This initiative is supported by our global policy, as well the legislation passed by the Ministry of Environment and Forests (MoEF) (called E-waste (Management & Handling) Rules, 2016), which came into effect from 1st Oct 2016.
CAREL ACR Systems India Pvt Ltd will seek shared responsibility and cooperation from customers in reducing the environmental impact of their products.
CAREL ACR Systems India Pvt Ltd will comply with all the applicable laws related to e-waste management Rules 2016.
As part of the e-waste recycling initiative, CAREL ACR Systems India Pvt Ltd has appointed E Waste Recyclers India, an E-waste Recycling company authorised by the Haryana Pollution Control Board, to collect, dismantle and recycle its e-waste across the country.
For further information about e-waste recycling, and our e-waste recycling partner and their processes, go to www.ewri.in, write an email to info@ewri.in or call toll free: 1800-102-5679
How this procedure will work
If you want to dispose of your old products, call us on our toll free number 1800-102-5679.
Our customer care representatives will explain the disposal procedure and will tell you the nearest location to drop-off e-waste.
For customers who prefer to have the material picked up from their site, we will send our recycler's logistics team to collect the items and deliver them to our e-waste partner's plant for final processing.
S.No.
State
City
Address
Phone No
1
Andhra Pradesh
Hyderabad
E-WASTE RECYCLERS INDIA, C/o OM LOGISTICS Ltd
PLOT NO. 31 BLOCK-E,. Behind Axis Bank Samshabad R.R. DISTT PIN No 501218
MR. SANDEEP KUMAR BIJARNIA 9100211137
2
Assam
Guwahati
E-WASTE RECYCLERS INDIA, C/o OM LOGISTICS Ltd
N.H 37 , Garalia , near National games Stadium , Beltola , Guwahati – 781034 , Assam
MR SURENDER 7086049105
3
Bengal
Central(FTL)
E-WASTE RECYCLERS INDIA, C/o OM LOGISTICS Ltd
P-1 , New C.I.T.
P-46 Extn.Near Brace Bridge Railway Station,Hide Road, , Kolkata – 700088

MR AJIT SINGH: 8017307286
Telephone: 033-24391495

4
Bihar
Patna
E-WASTE RECYCLERS INDIA, C/o OM LOGISTICS Ltd
D-46, Near Gate No -1
Zero Mile Trans port Nagar, Patana, Bihar

MR. SANJEEV
7763801969

5
Chhattisgarh
Raigarh
E-WASTE RECYCLERS INDIA, C/o OM LOGISTICS Ltd
KHASRA NO.24 VILLAGE TATIBAND TEHSIL RAIPUR ,DISST. RAIPUR RAIPUR (C.G.) 492099
MR. NEERAJ THAKUR 8370005257
6
Delhi
Delhi 21 NO
E-WASTE RECYCLERS INDIA, C/o OM LOGISTICS Ltd
21 RING ROAD , TRANSPORT CENTRE (NEAR PUNBJABI BAGH FLY OVER) NEW DELHI-110035
MR. SUSHIL KUMAR 9268568539 Telephone: 011-45970511/12
7
Gujarat
Vadodara
E-WASTE RECYCLERS INDIA, C/o OM LOGISTICS Ltd
C-1 TO 12, MARUTI ESTATE, NR. HALOL HIGHWAY TOLL NAKA, GOLDEN CHOUKADI, VADODARA.(GUJ.) - 390022
MR.SURENDER SINGH 9714500566
8
Haryana
Ambala
E-WASTE RECYCLERS INDIA, C/o OM LOGISTICS Ltd
N.H.1, OPP.- MIRCHI RESTORENTNEAR KAUSHAL FILLING STATIONSAMBALKHI ROAD, MOHRI , AMBALA (HARYANA) 136135
MR.VINOD 8397970439
9
Himachal Pradesh
Baddi
E-WASTE RECYCLERS INDIA, C/o OM LOGISTICS Ltd
KHASRA NO. 652/2.0, NEAR RADHA SWAMI SATSANG BHAWANSAI ROAD TEH .BADDI DISTT. SOLAN (HP) 173205
MR. PAWAN KUMAR 7832940021 & 7832940028
10
Jharkhand
Ranchi
E-WASTE RECYCLERS INDIA, C/o OM LOGISTICS Ltd
C/O VINAIKA CAMPUS LALI RAJA ULHATU ROAD SIDROUL ON TATA ROAD RANCHI-834010
MR.RAKESH 7091598665
11
Karnataka
Bommansandra
E-WASTE RECYCLERS INDIA, C/o OM LOGISTICS Ltd
SLN AUTOYARD NO. 7/3 1ST CROSS BOMMANSANDRA,INDUSTRIAL AREA OPPOSIT KANORYA PLASTIC PVT. LTD. BOMMANSANDRA-560100
MR.RAJ KUMAR CHAUBEY 8050070247
12
Kerala

Trivandrum

E-WASTE RECYCLERS INDIA, C/o OM LOGISTICS Ltd
KALLUVETTANKUZHI, VIZHINJAM-(PO), NEAR CHRIST NAGAR COLLEGE KOVALAM, TRIVENDRUM, KERALA-695521
MR.SHAILESH TIWARI 7034025580
13
Maharashtra
Bhiwandi
E-WASTE RECYCLERS INDIA, C/o OM LOGISTICS Ltd
SONALE VILLAGE, MUMBAI - NASIK HIGHWAY, OPP. PRESIDENCY SCHOOL, TAL. BHIWANDI, DIST. THANE – 421302
MR.GOVIND SINGH 9594966655
14
Madhya Pradesh
Bhopal
E-WASTE RECYCLERS INDIA, C/o OM LOGISTICS Ltd
C/O SUBHAM WARE HOUSE KATARA HILL / NEW BY PASS 11 MILL TOLLE STATE – MADHYA PARDESH 462021

MR.GHANSHYAM RAI 9644401084
15
Orrisa
Bhubneswar
E-WASTE RECYCLERS INDIA, C/o OM LOGISTICS Ltd
PLOT NO - 573,574 SAMEIGADIA,CHAKEISAHANI P.O-RASULGARH BHUBNESWARPIN CODE – 751010
SHIVA PRASAG SAEANGI 8500311580
16
Punjab
Amritsar
E-WASTE RECYCLERS INDIA, C/o OM LOGISTICS Ltd
SULTANBINT ROAD NEAR AJAY PALACE DUBURAJI AMRITSAR PIN CODE – 143001
MR.SUNIL THAKUR 8558899519
17
Rajasthan
Jaipur
E-WASTE RECYCLERS INDIA, C/o OM LOGISTICS Ltd
NEAR DPS SCHOOL N.H. 8 AJMER ROAD BANKROTA JAIPUR 302026
MR. SANDEEP 9649999015
18
Tamilnadu
Tirunelveli
E-WASTE RECYCLERS INDIA, C/o OM LOGISTICS Ltd
PLOT NO- 163C ,CHIDAMBARA NAGAR, SHANKAR NAGAR, TIRUNELVELI-627357( T.N)
MR.SURENDER KUMAR POONIA 8939877540
19
Uttarakhand
Dehradun
E-WASTE RECYCLERS INDIA, C/o OM LOGISTICS Ltd
A-61,TRANSPORT NAGARSAHARANPUR ROADDEHRADUN NEAR ISBT STATE – UTTARAKHAND
MR.SHANKAR POONIA 8392921855
20
Uttar Pradesh
Agra
E-WASTE RECYCLERS INDIA, C/o OM LOGISTICS Ltd
A-13/6, SITE-III, MEERUT ROAD INDUSTRIAL AREANEAR UTTAM TOYOTA SHOWROOM & FORD SERVICE CENTEROPP. CLOUD- 9 MARRIGE HOME, GHAZIABAD
PIN CODE- 201001
MR.CHANDRA SHEKHAR SHARMA 9213097162
21
Goa
Goa
E-WASTE RECYCLERS INDIA, C/o OM LOGISTICS Ltd
PLOT NO.S141,PHASE IIIB, NEAR HOTEL RAVI CAFE, NEAR LOKMAT PRESS, VERNA, GOA 403722
RAKESH 9922444062
22
Tripura
Agartala
E-WASTE RECYCLERS INDIA, C/o OM LOGISTICS Ltd
SURYA ROAD AGRTALA , NEAR DEVEN ROADWAYSPIN- 799001,TRIPURA
MR.AKSHYA KUMAR 7086045046