EVD ice
EVDM011R* EVDMU00R**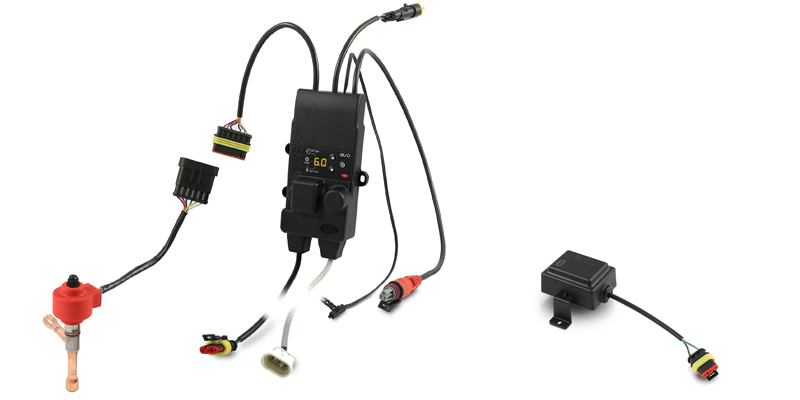 General characteristics

EVD ice is the new control solution for CAREL ExV proportional electronic expansion valves that can be installed directly on the evaporator, thanks to its revolutionary design intended specifically for low temperature conditions, such as Walk-ins and other applications.
EVD ice is especially suited to installation in the factory, since all accessory equipment is pre-cabled, including the stator for the electronic expansion valve and the sensors.
This makes all of the benefits in performance and energy savings available, without the need for cabling, welding or complex configuration, while offering the quality and reliability of a factory tested and installed solution.
EVD ice can also be integrated with CAREL systems such as Ultracella. Furthermore, EVD ice is designed to be compatible with third party regulations and control solutions using standard communication protocols, or it can work as a standalone solution for refrigeration cells and other applications in which compactness and versatility are key.
The system is rounded by the UltraCap option, which ensures the safety of the refrigeration system in case of power failure, as well as its compatibility with natural and eco-friendly refrigerants, including modern HFO's.
Documentation
Technical
Technical Leaflets

* Entries are ordered by date

Code
Description
Language
Date *
Release

Code

+050004265

Description

EVDM*, EVD ice (230V) - Driver per valvola di espansione elettronica unipolare / Driver for unipolar electronic expansion valve

Language

ENG ITA

Date

20/07/2021

Release

1.2

Code

+050004266

Description

EVDM*, EVD ice (230V) - Pilote pour vanne à détente électronique unipolaire / Treiber für einpoliges elektronisches Expansionsventil

Language

FRE GER

Date

20/07/2021

Release

1.2

Code

+050004174

Description

EVDM*, EVD ice (230V) - Driver per valvola di espansione elettronica unipolare / Driver for unipolar electronic expansion valve

Language

ENG ITA

Date

20/04/2018

Release

1.1

Code

+050004176

Description

EVDM*, EVD ice (230V) - Pilote pour vanne à détente électronique unipolaire / Treiber für einpoliges elektronisches Expansionsventil

Language

FRE GER

Date

20/04/2018

Release

1.1

Code

+05C004162

Description

EVDM*, EVD mini (230V) - 单对极电子膨胀阀驱动器 / Driver for unipolar electronic expansion valve

Language

CHI ENG

Date

20/04/2018

Release

1.6

Code

+05C004157

Description

EVDM*, EVD mini (24V) - 单对极电子膨胀阀驱动器 / Driver for unipolar electronic expansion valve

Language

CHI ENG

Date

20/04/2018

Release

1.6

Code

+050004172

Description

EVDM*, EVD ice (230V) - Driver per valvola di espansione elettronica unipolare / Driver for unipolar electronic expansion valve

Language

ENG ITA

Date

21/01/2016

Release

1.6

Code

+050004153

Description

Simulatore / Simulator: EVD EVO

Language

ENG ITA

Date

09/10/2014

Release

1.0

Code

+050004155

Description

EVDCNV00E0 - Convertitore USB - tLAN per driver EVD evolution/ USB - tLAN converter for EVD evolution driver

Language

ENG ITA

Date

07/07/2009

Release

1.1

Manuals

* Entries are ordered by date

Code
Description
Language
Date *
Release

Code

+0300038PT

Description

EVD ice Controle do superaquecimento para válvula de expansão eletrônica unipolar

Language

POR

Date

20/07/2021

Release

1.4

Code

+0300038IT

Description

EVD ice Controllo del surriscaldamento per valvola di espansione elettronica unipolare - STEP2

Language

ITA

Date

20/07/2021

Release

1.4

Code

+0300038EN

Description

EVD ice Superheat control for unipolar electronic expansion valve - STEP2

Language

ENG

Date

20/07/2021

Release

1.4

Code

+0300038DE

Description

EVD ice Überhitzungsregler für einpoliges elektronisches Expansionsventil

Language

GER

Date

20/07/2021

Release

1.4
Images
High resolution images

* Entries are ordered by date

Code
Description
Language
Date *
Release

Code

PH17LEV303-EVD-ice

Description

CAREL EVD ice - Expansion valve driver - EEV Technology

Language

ALL

Date

11/03/2022

Release

R.0

Code

PH16LEV302-EVD-ice-ultracap

Description

CAREL EVD ice - Expansion valve driver - EEV Technology

Language

ALL

Date

11/03/2022

Release

R.0