MC Multizone
MC*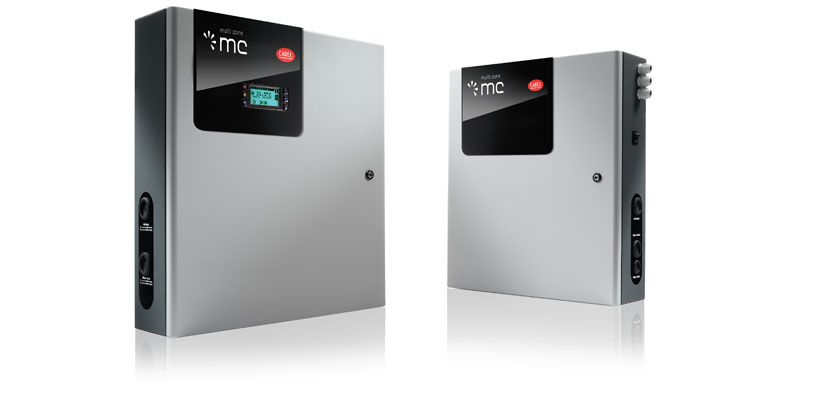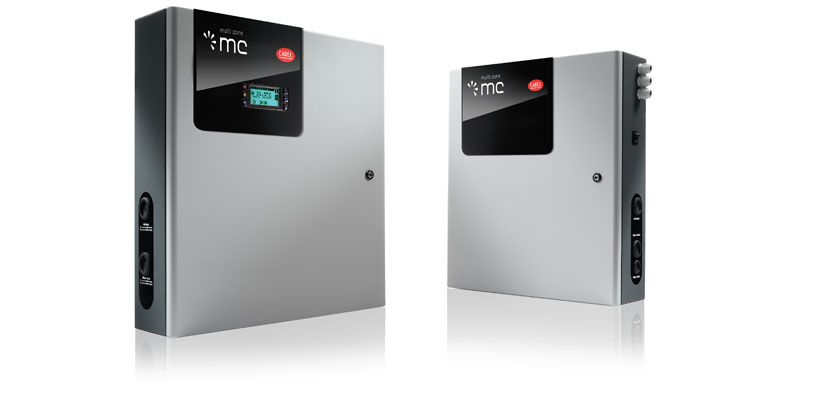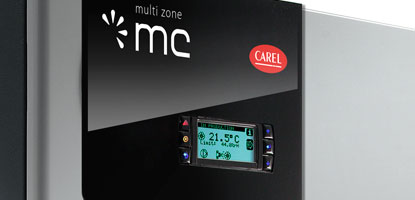 General characteristics

MC is an atomizing adiabatic humidifier that uses the energy of compressed air to atomize water in micrometric droplets. The system consists of a cabinet equipped with an electronic controller and interface display, which, thanks to two independent networks of water and air piping, feeds the nozzles in the optimum conditions of flow and pressure. Inside the nozzle, the energy of the air is used to create an emulsion of water with droplets of the diameter of approximately 10 µm, allowing a rapid absorption. This feature makes MC the most suitable product for installations directly in the environment, with use in the textile industry and in the processing of wood and paper, in cellars and in refrigerating rooms, where compressed air is almost always available. However, in the absence of a pre-existing compressed air line, it is also advantageous to install an MC system equipped with a dedicated air compressor. MC can also be installed in the duct, as long as there is enough space for the absorption of the jet of atomized water.




MC can be used both with demineralized water (to avoid sending salts into the environment) and with mains water: the nozzle is equipped with a particular cleaning needle inside, periodically activated by a spring, which cleans the orifice from any deposits of mineral salts. Thanks to the drainage solenoid valve placed at the end of the line, it is possible to drain the unit when idle and to wash it periodically. In favor of hygiene, a UV lamp (optional) is also supplied, to be installed immediately upstream of the cabinet.




MC is available with a 16 gallons/h or 61 gallons/h cabinet. You can use the main/secondary solution when you want to add another area with an independent set point (up to 6 areas) or when you want to increase the humidification capacity (over 61 gallons/h) in a single area. The nozzles are available in various capacities: 2,7 – 4,0 – 5,4 – 6,8 – 10,0 l/h. The choice of the nozzle depends on how you want to divide the total humidification capacity.

Plus

- very fine water-air emulsion, suitable for humidification and direct cooling in the environment thanks to its rapid absorption
- possibility to use main/secondary, to increase capacity of for multi-area applications
- possibility to choose the size of the nozzle in order to better divide the humidification load
- nozzle with self-cleaning needle, can be used also with mains water.
Documentation
Commercial
Brochure

* Entries are ordered by date

Code
Description
Language
Date *
Release

Code

+3000224IT

Description

Educational - Utilizzare nel modo migliore tecnologie e sistemi delle applicazioni HVAC/R

Language

ITA

Date

24/01/2022

Release

1.1

Code

+3000224EN

Description

Educational - Make the best use of HVAC/R application technologies and systems

Language

ENG

Date

24/01/2022

Release

1.1

Code

+3000223IT

Description

Soluzione completa di servizi dedicata agli umidificatori CAREL

Language

ITA

Date

21/12/2021

Release

1.0

Code

+3000223EN

Description

Complete services solution for CAREL humidifiers

Language

ENG

Date

21/12/2021

Release

1.0

Code

+3000223ES

Description

Solución completa de servicios dedicada a los humidificadores CAREL

Language

SPA

Date

21/12/2021

Release

1.0

Code

+3000223FR

Description

Solution complète de services pour les humidificateurs CAREL

Language

FRE

Date

21/12/2021

Release

1.0

Code

+3000223PL

Description

Kompletne rozwiązanie serwisowe dla nawilżaczy CAREL

Language

POL

Date

21/12/2021

Release

1.0

Code

+3000203IT

Description

Industria del vino: Soluzioni per la termoregolazione e supervisione

Language

ITA

Date

05/05/2021

Release

1.1

Code

+3000203EN

Description

Wine industry: Temperature control and supervisory solutions

Language

ENG

Date

05/05/2021

Release

1.1

Code

+3000203ES

Description

Industria del vino: Soluciones para el control de la temperatura y la supervisión

Language

SPA

Date

05/05/2021

Release

1.1

Code

+3000018IT

Description

L'umidità è importante! Umidificatori CAREL, una soluzione per ogni richiesta

Language

ITA

Date

15/09/2020

Release

4.1

Code

+3000018DE

Description

Die Feuchte zählt! CAREL-Befeuchter, eine Lösung für jedes Anliegen.

Language

GER

Date

15/09/2020

Release

4.1

Code

+3000018EN

Description

Humidity matters! CAREL humidifiers, a solution for every need

Language

ENG

Date

15/09/2020

Release

4.1

Code

+3000018ES

Description

¡La humedad es importante! Humidificadores CAREL, una solución para cada necesidad

Language

ENG SPA

Date

15/09/2020

Release

4.1

Code

+3000018FR

Description

L'humidité est importante! Les humidificateurs CAREL, une solution pour chaque application

Language

FRE

Date

15/09/2020

Release

4.1

Code

+3000018PL

Description

Nawilżanie ma znaczenie! Rozwiązania CAREL dla twoich potrzeb nawilżania

Language

POL

Date

15/09/2020

Release

4.1

Code

+3000193IT

Description

Umidificazione diretta: Soluzioni all'avanguardia per ambienti industriali e commerciali

Language

ITA

Date

15/11/2019

Release

1.1

Code

+3000193EN

Description

Direct humidification: Advanced solutions for industrial and commercial environments

Language

ENG

Date

15/11/2019

Release

1.1

Code

+3000193DE

Description

Direkte Raumbefeuchtung Innovative Lösungen für die Industrie und den Handel

Language

GER

Date

15/11/2019

Release

1.1

Code

+3000193ES

Description

Humectación directa Soluciones avanzadas para ambientes industriales y comerciales

Language

SPA

Date

15/11/2019

Release

1.1

Code

+3000193NL

Description

Directe bevochtiging Geavanceerde oplossingen voor industriële en commerciële omgevingen

Language

DUT

Date

15/11/2019

Release

1.1

Code

+3000103PT

Description

humiSonic Umidificadores adiabáticos de ultrassons

Language

POR

Date

31/10/2019

Release

2.0

Code

+3000173EN

Description

Solutions for the tobacco industry Excellence in humidity control and monitoring

Language

ENG

Date

18/04/2018

Release

1.0

Code

+3000173IT

Description

Soluzioni per l'industria del tabacco L'eccellenza per il controllo e il monitoraggio dell'umidità

Language

ITA

Date

18/04/2018

Release

1.0

Code

+30C240441

Description

气水混合型 加湿器

Language

CHI

Date

23/04/2015

Release

2.0

Code

+302240440

Description

mc multizone semplice e robusto, ideale per i grandi ambienti industriali

Language

ITA

Date

30/03/2015

Release

2.0

Code

+302240441

Description

mc multizone simple and robust, ideal for large industrial environments

Language

ENG

Date

30/03/2015

Release

2.0

Code

+302240442

Description

mc multizone simple et robuste, idéal pour les grands locaux industriels

Language

FRE

Date

30/03/2015

Release

2.0

Code

+302240443

Description

mc multizone Einfach und robust, ideal für große Industrieanlagen

Language

GER

Date

30/03/2015

Release

2.0

Code

+302240444

Description

mc multizone sencillo y robusto, ideal para los grandes ambientes industriales

Language

SPA

Date

30/03/2015

Release

2.0

Code

+3000018PT

Description

A humidade é importante! Soluções CAREL para as suas necessidades de humidificação

Language

POR

Date

19/02/2015

Release

3.0

Code

+3000018ZH

Description

湿度问题! CAREL解决方案 满足您的加湿需求

Language

CHI

Date

19/02/2015

Release

3.0

Code

+3000018KR

Description

최고의 습도 조절을 위한 CAREL solutions

Language

KOR

Date

19/02/2015

Release

3.0

Code

+3000018CS

Description

Na vlhkosti záleží! CAREL - řešení Vašich potřeb zvlhčování

Language

CZE

Date

01/10/2012

Release

2.0

Code

+3000018SV

Description

Fukt är viktigt! Med befuktare från CAREL inns det en lösning för alla behov

Language

SWE

Date

01/10/2012

Release

2.0

Code

+3000018FI

Description

Kosteudella on merkitystä! CAREL kostuttimet, ratkaisu kostutustarpeisiin.

Language

FIN

Date

01/10/2012

Release

2.0

Code

+30U0018EN

Description

Humidity matters! CAREL solutions for your humidification needs ( USA)

Language

ENG

Date

01/10/2012

Release

2.0

Code

+302240447

Description

Увлажнители распылительного типа на сжатом воздухе

Language

RUS

Date

01/03/2008

Release

1.0

Code

+302240448

Description

mc multizone مرطبات الهواء باستخدام الهواء المضغوط

Language

ARA

Date

01/03/2008

Release

1.0

Code

+302235433

Description

Контроль влажности в текстильной промышленности

Language

RUS

Date

02/07/2007

Release

1.0

Code

+302239432

Description

Solutions pour comptoirs et cellules frigorifiques

Language

FRE

Date

01/10/2006

Release

1.0

Code

+302239433

Description

Lösungen für Kühlmöbel und Kühlräume

Language

GER

Date

01/10/2006

Release

1.0

Code

+302239434

Description

Soluciones para muebles y cámaras frigoríficas

Language

SPA

Date

01/10/2006

Release

1.0

Code

+302239436

Description

Решения для витрин и холодильных камер

Language

RUS

Date

01/10/2006

Release

1.0

Code

+302235382

Description

solutions pour l'industrie du tabac

Language

FRE

Date

15/01/2006

Release

1.0

Code

+302235383

Description

Lösungen für die Tabakindustrie

Language

GER

Date

15/01/2006

Release

1.0

Code

+302235384

Description

soluciones para la industria del tabaco

Language

SPA

Date

15/01/2006

Release

1.0

Code

+302239430

Description

Soluzioni per banchi e celle frigorifere

Language

ITA

Date

01/10/2005

Release

1.0

Code

+302239431

Description

Solutions for showcases and cold rooms

Language

ENG

Date

01/10/2005

Release

1.0
Images
High resolution images

* Entries are ordered by date

Code
Description
Language
Date *
Release

Code

PH14LMC302-mc-range

Description

CAREL-MC Multizone-Compressed Air and Water Atomisers

Language

ALL

Date

01/07/2021

Release

R.0